PAULINA KLEPACZ: Pani doktor, kiedy warto się wybrać na pierwszą wizytę ginekologiczną? Czy pierwsza miesiączka jest takim momentem?
DOKTOR SKÓRZEWSKA: Obecnie dziewczynki zaczynają miesiączkować coraz wcześniej, już w wieku 11–12 lat. Jeśli więc nie ma żadnych problemów z miesiączkowaniem czy stanami zapalnymi dróg moczowo-płciowych, to jest to trochę za wcześnie – w tym wieku dzieci nie są zwykle gotowe na tę bardzo intymną i krępującą sytuację. Statystycznie po raz pierwszy zgłaszają się zwykle osoby po 18. roku życia. Rzadziej zdarzają się 16- czy 17-latki. Tymczasem optymalny moment na odbycie pierwszej wizyty ginekologicznej to właśnie czas pomiędzy 16. a 18. rokiem życia. Na pewno warto zrobić to przed rozpoczęciem współżycia. I wtedy, kiedy są problemy z miesiączkowaniem, to już niezależnie od wieku. W ciągu dwóch lat od pierwszej miesiączki dojrzewa układ hormonalny: miesiączki mogą być nieregularne i o różnym nasileniu. Potem powinna nastąpić stabilizacja, jeśli jednak tak się nie dzieje, należałoby się pokazać u lekarza.
PAULINA: W przypadku niepełnoletnich musi być zgoda rodzica na wizytę, prawda?
DR SKÓRZEWSKA: Tak, potrzebna jest podwójna zgoda: i rodzica, i małoletniego.
PAULINA: Czy rodzice nie proponują takich wczesnych wizyt córkom, aby to lekarz wytłumaczył im, co się dzieje z nimi w okresie dojrzewania, uświadomił w kwestii seksualności?
DR SKÓRZEWSKA: U nas raczej nie ma takiej kultury, że to rodzice uświadamiają dzieci. O swojej seksualności dowiadują się częściej od koleżanek i kolegów, z książek, z gazet, z sieci. Choć lepiej by było od rodziców i od lekarza. To się zmienia, ale bardzo, bardzo powoli. Tylko sporadycznie zdarzają się takie mamy, które przychodzą do lekarza z prośbą, by powiedział córce, na czym polega miesiączkowanie itd. Generalnie lekarz wiąże się w naszej świadomości z chorobą, z problemem. Dlatego według mnie uświadamianiem powinni się zająć edukatorzy seksualni oraz położne – do nich na pewno ludzie zgłaszaliby się chętniej. Położne to często młode kobiety (kobiety właśnie, kiedy wśród ginekologów wciąż przeważają mężczyźni, co młode dziewczyny może blokować), które rozumieją potrzeby innych kobiet, które są empatyczne, zwykle mają więcej czasu niż lekarki i lekarze, więc rewelacyjnie by było, gdyby ta grupa zawodowa zajęła się edukacją seksualną. W Polsce nie mamy takiej funkcji jak edukator pacjenta. Na świecie są to osoby, które mają podstawy wiedzy medycznej i w przychodniach spotykają się z pacjentami, pytają, czy mogą udzielić jakichś informacji, kiedy ktoś czeka do lekarza.
PAULINA: No dobrze, nadchodzi ten moment, zapisujemy się do ginekologa i w głowie pojawia się mnóstwo pytań. Jak się do wizyty przygotować?
DR SKÓRZEWSKA: Najważniejsze, żeby dziewczynka czy kobieta zdawała sobie sprawę, że wizyta ginekologiczna polega na pokonaniu pewnej bariery – podczas badania konieczne jest rozebranie się przed obcą osobą, która ingeruje w najbardziej intymne miejsca. Poza tym ważne jest, aby maksymalnie się rozluźnić – to też nie jest proste. Mimowolnie się spinamy, a im większe spięcie, tym większy dyskomfort w trakcie badania. Zawsze podczas pierwszej wizyty opowiadam, na czym polega badanie, nigdy do niego nie zmuszam, decyzję pozostawiam pacjentce. Bywa tak, że mama mówi: "No, rozbierz się, to nic!", ja wtedy reaguję: "Nie, to ma być decyzja córki i jeżeli ona nie jest gotowa na badanie, to się na razie tylko zapoznamy". Kiedy wyraża zgodę, zaczynam od badania piersi, bo to dla większości z nas nie jest aż tak intymne. Mam pacjentki, które dopiero podczas trzeciej wizyty zdecydowały się na badanie ginekologiczne i to jest OK, trzeba to uszanować. Warto wiedzieć, że badanie nie zawsze można przeprowadzić "tradycyjnie", czyli przez pochwę. Jeżeli młoda osoba jeszcze nie współżyła, błona dziewicza jest zachowana i nie przepuści nawet jednego palca badającej ręki, wtedy badanie odbywa się przez odbyt. To jest nieprzyjemne, bardzo krępujące i trzeba o tym wcześniej poinformować. Dopiero na fotelu okazuje się, jaki sposób badania jest możliwy. Dzisiaj dużo dziewczyn stosuje tampony i jeżeli tampon bez problemu jest zakładany i wyjmowany, wtedy można jednym palcem badać ginekologicznie, również kobiety, które nie współżyły i mają zachowaną błonę dziewiczą, bo ona jest na tyle rozciągliwa, że nie zostanie uszkodzona.
PAULINA: Od razu nasuwa mi się pytanie o koncept dziewictwa. Z jednej strony mamy romantyczny pierwszy raz i przerwanie błony, z drugiej strony ona może przerwać się w wyniku uprawiania sportu itp.
DR SKÓRZEWSKA: W mojej praktyce – a pracuję 25 lat w zawodzie – spotkałam co najwyżej dwie kobiety, które bardzo zwracały uwagę na nienaruszenie błony dziewiczej. Ale zdarzały się sytuacje, że pacjentka mówiła: "Niech mnie pani zbada przez pochwę i będę miała to już za sobą!". Tylko że ja tego zrobić nie mogę, bo to nie jest moje zadanie. Myślę, że dziewictwo już nie jest dla młodych kobiet aż tak ważne, a w niektórych kręgach posiadanie błony dziewiczej uważane jest wręcz za wadę. To oczywiście zależy od otoczenia.
PAULINA: Zdecydowanie presja rówieśnicza wpływa na podejście do dziewictwa i inicjacja seksualna następuje dziś w coraz młodszym wieku. I pewnie w większości przypadków bez poprzedzającego spotkania z lekarzem.
DR SKÓRZEWSKA: Podkreślam, że warto wcześniej udać się do lekarza, chociażby po to, żeby powiedział, na czym to wszystko polega i zaproponował ewentualną antykoncepcję. By do stresu związanego z inicjacją nie dodawać strachu przed ciążą.
PAULINA: Strach przed ciążą wśród młodzieży jest duży, nie ma za to chyba myślenia o chorobach przenoszonych drogą płciową.
DR SKÓRZEWSKA: Od kilku lat obserwujemy wzrost zachorowań np. na kiłę czy rzeżączkę. Dziś lekarze nie są przygotowani na rozpoznawanie tych "dawnych" chorób, nie spotkali się z nimi w swojej praktyce i zapominają o możliwości ich wystąpienia. Tymczasem kluczowe jest szybkie wprowadzenie odpowiedniego leczenia, bo łatwiej opanować sytuację. Na szczęście dzięki antybiotykom nie rozwijają się takie powikłania tych chorób jak 20 czy 30 lat temu.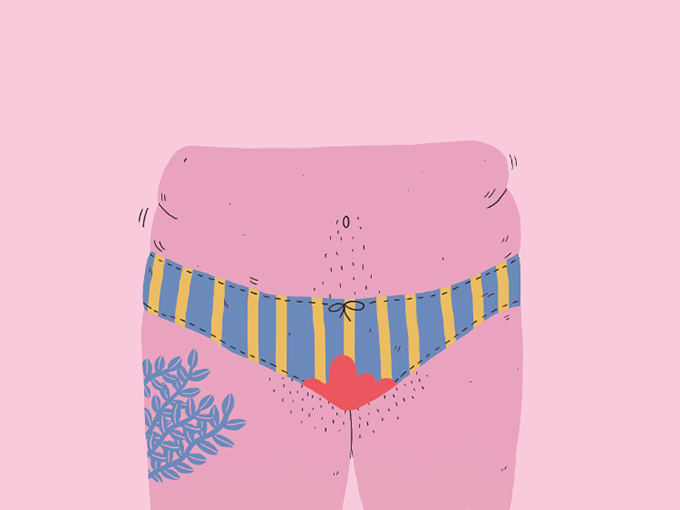 PAULINA: Sporo ostatnio mówi się zwłaszcza o wirusie HPV.
DR SKÓRZEWSKA: To bardzo medialny wirus. I super, że się o tym mówi, i super, że są szczepionki, dzięki temu zmniejsza się ryzyko zachorowania. Tak naprawdę każdy z nas w ciągu swojego życia miał kontakt z wirusem HPV, bo ma on wiele typów. Niektóre powodują kurzajki na stopach i dłoniach czy brodawki na skórze, inne powodują kłykciny kończyste, czyli łagodne zmiany. Ale są też takie, które dostają się do szyjki macicy i mogą spowodować rozwój raka, jeśli jest to infekcja przetrwała. Nasze organizmy mają zdolność eliminowania różnych patogenów, m.in. wirusa HPV, więc jeżeli to jest infekcja ostra, mamy dużą szansę, że ją zwalczymy. I nawet jeżeli badania cytologiczne czy badanie DNA wykaże obecność wirusa, to jeszcze nie jest wyrok. Ale szczepić się trzeba, jak najbardziej. I regularnie wykonywać badania cytologiczne.
PAULINA: I dlatego zaleca się szczepienie zwłaszcza młodych kobiet. Żeby je w porę uodpornić i zabezpieczyć przed konsekwencjami zarażenia?
DR SKÓRZEWSKA: Tak, ale są też badania, które pokazują, że szczepionki dobrze chronią również kobiety 50-, 60- i 70-letnie. Bo jeśli one są nadal aktywne seksualnie i zmieniają partnerów, również mogą się zarazić. Wczoraj czytałam artykuł, w którym autorzy przedstawiają dowody, że zakażenie onkogennymi typami wirusa HPV w starszym wieku częściej powoduje nowotworzenie niż u osób młodych. Ale my zapominamy, że osoby po 50. roku życia też współżyją.
PAULINA: Kiedy już nie ma ryzyka ciąży, zapomina się o zabezpieczeniach… W przypadku stałych partnerów dobrym rozwiązaniem wydaje się przebadanie się przed rezygnacją z zabezpieczeń.
DR SKÓRZEWSKA: Tak, ale trzeba pamiętać o okienku immunologicznym – jest to okres, w którym jest już infekcja, ale nie będą obecne pozwalające ją wykryć przeciwciała. Zatem dobrze by było powtórzyć badania po jakimś czasie, żeby być pewnym.
PAULINA: Jak wygląda rozmowa z pacjentkami, czy łatwo przychodzi im mówienie o ich miejscach intymnych?
DR SKÓRZEWSKA: Jest takie określenie-wytrych: "Bo mnie tam piecze i swędzi". (śmiech) To może być wszystko i może świadczyć o wszystkim. Staram się zawsze doprecyzować, o jakie miejsce chodzi. Bo kobiety mogą mieć na myśli cewkę moczową, pęcherz moczowy, wargi sromowe, pochwę, ale też bóle w dole brzucha różnego typu. Problemem jest też opisanie, jak wyglądają upławy, bo nie bardzo wiedzą. Gdy pytam, czy jest plamienie, często mówią: "Tak, takie białe". Białe nie jest plamieniem, tylko wydzieliną z dróg rodnych, a wszystkie wydzieliny nazywamy upławami.
PAULINA: Z moich rozmów z kobietami wynika, że nie mamy nawyku obserwacji swoich wydzielin, zmian śluzu w trakcie cyklu.
DR SKÓRZEWSKA: To się bardzo zmieniło. Za moich czasów dziewczyny doskonale rozpoznawały śluz po miesiączce czy okołoowulacyjny. W tej chwili nie zwracają na to większej uwagi. A jeżeli stosują tabletki, to tych zmian nie ma.
PAULINA: Jakiś czas temu pewien lekarz powiedział w telewizji śniadaniowej, że menstruacja nie jest kobietom potrzebna. Potrafi ona utrudnić życie, ale czy faktycznie lepiej byłoby ją zlikwidować?
DR SKÓRZEWSKA: Okres nie jest najprzyjemniejszym wydarzeniem, ale wszystkie na niego czekamy. Mimo że odczuwamy dyskomfort, że występuje zespół napięcia przedmiesiączkowego, to w naszej podświadomości miesiączka jest ważną oznaką: po pierwsze, że nie jesteśmy w ciąży, po drugie, że wszystko z naszymi hormonami i układem rozrodczym w porządku. Jeśli kobieta nie miesiączkuje, oznacza to, że jest w ciąży albo przekwitła. Dlatego panie po 40. czy 50. roku życia chcą, żeby miesiączka wciąż była. Mamy gdzieś zakodowane, że menopauza to koniec. Ale kobieta, która jest aktywna seksualnie i pragnie dziecka, chce, żeby tej miesiączki nie było.
Więc myślę, że absolutna większość kobiet traktuje miesiączkę jak dobro konieczne lub zło konieczne – jakby tego nie nazwać – ale zawsze jako objaw zdrowia, zdolności reprodukcyjnych, składową biologii. Póki miesiączkujemy, wiemy, że możemy zajść w ciążę, mamy wybór.
PAULINA: Mamy wybór m.in. dzięki pigułkom antykoncepcyjnym, wiele z nich pomaga jednocześnie wyregulować cykl menstruacyjny.
DR SKÓRZEWSKA: To najprostsze, ale nie najlepsze leczenie zaburzeń miesiączkowania. Krwawienia regulujemy wtedy, gdy mają nieprawidłowy rytm. Zanim jednak sięgniemy po tabletki, najpierw należy znaleźć przyczynę tego stanu.
PAULINA: Jeśli chodzi o antykoncepcję – jakie są najlepsze metody?
DR SKÓRZEWSKA: Jeżeli kobieta miesiączkuje regularnie, ma stałego partnera i nie planuje ciąży, to wszystko zależy od jej światopoglądu. Według mnie najskuteczniejsza jest dwuskładnikowa antykoncepcja hormonalna. I zważywszy na te miliony kobiet, które ją codziennie przyjmują, najbezpieczniejsza. Chociaż mówi się o powikłaniach, o zakrzepicy, o nowotworach i innych skutkach ubocznych, to statystycznie wzrost zachorowań wśród sięgających po tabletkę jest nieznaczny w stosunku do kobiet, które jej nie stosują.
Metody naturalne z kolei w moim przekonaniu są świetne do planowania ciąży i po to, żeby określić czas, w którym jest największe prawdopodobieństwo zapłodnienia, zwłaszcza jeśli ktoś jest bardzo zdyscyplinowany. Osobiście nie ufam tym metodom, jeśli mają służyć antykoncepcji.
Prezerwatywy to istotny środek, bo nie ma póki co lepszego sposobu zapobiegania chorobom przenoszonym drogą płciową.
Są też wkładki wewnątrzmaciczne – dobre, choć ich stosowanie u kobiet, które nie rodziły, wiąże się z ryzykiem uszkodzenia aparatu więzadłowego szyjki macicy. Ale kobiety, które już zakończyły okres rodności, mają tyle dzieci, ile planowały, i nie chcą w najbliższym czasie zajść w ciążę, uznają to za wygodny środek, nie trzeba np. pamiętać o łykaniu tabletki codziennie.
Jeżeli chodzi o środki oparte na gestagenach (tabletki, implanty podskórne, zastrzyki) – są to metody, które mają ograniczone zastosowanie, zaleca się je głównie w sytuacji, gdy nie powinno się stosować estrogenów z powodów zdrowotnych. To raczej niszowa antykoncepcja, co nie znaczy, że gorsza.
PAULINA: Tabletek antykoncepcyjnych jest dziś sporo i można coś dla siebie dobrać…
DR SKÓRZEWSKA: Razem z generykami to już chyba z osiemdziesiąt preparatów. Można je dobrać indywidualnie – w zależności od oczekiwań kobiety, jakichś dodatkowych działań, jak poprawa stanu skóry trądzikowej. Wie pani, czego najczęściej poza antykoncepcją oczekują kobiety? Tego, że nie przytyją, a najlepiej schudną, że będę miały ładną cerę i że biust się powiększy. Tak naprawdę nie myślą o bezpieczeństwie, tylko bardziej o takich "skutkach ubocznych".
PAULINA: Chciałabym poznać pani opinię w kwestii higieny intymnej – jakie środki do mycia są najlepsze?
DR SKÓRZEWSKA: W drogeriach jest mnóstwo środków do higieny intymnej, a większość z nich to płyny. Każde mydło, każdy środek, żeby stał się płynem, musi przejść przemiany chemiczne, czyli dodatkowe reakcje. Im więcej reakcji chemicznych, tym mniej jest bezpieczny i bardziej alergizujący.
Większość ginekologów i dermatologów nie zaleca płynów do higieny intymnej, tylko szare/białe mydło w kostce, bez zapachu. Wiele moich pacjentek, które się do tego dały namówić, widzi, że jest duża różnica i ogromna poprawa. Zanim sięgniemy po płyn do higieny intymnej, spójrzmy, jaki ma skład, bo pH w pochwie powinno być kwaśne, natomiast na zewnątrz obojętne, więc tak naprawdę w środkach do higieny nie powinno być zbyt kwaśne, bo nie robimy sobie nimi irygacji. Bardzo ważne jest także, żeby dokładnie osuszać zewnętrzne narządy płciowe i nie zakładać na mokre ciało bielizny, a zwłaszcza nie pozostawać w mokrych kostiumach kąpielowych, bo to powoduje infekcje.
PAULINA: A jak wygląda sprawa depilacji?
DR SKÓRZEWSKA: Owłosienie łonowe po coś jest – na drodze ewolucji pozostało ono jedynie w najbardziej delikatnych miejscach, które natura chce chronić. Weźmy choćby pachy – są tam węzły chłonne, skóra jest cienka. Owłosienie łonowe oprócz świadczenia o dojrzałości, pomaga zachować odpowiednią wilgotność, chroni przed zimnem, ale też przed różnymi drobnoustrojami, które zatrzymuje. Jeżeli ktoś ma bardzo bujne owłosienie i jest to dla niego niekomfortowe, to w jakimś procencie powinno ono być zmniejszone, ale uważam, że zupełne usuwanie owłosienia nie jest dobre. Czasem pacjentki mówią: "Bo ja wczoraj byłam właśnie na depilacji, bo wiedziałam, że do pani idę". Tymczasem owłosienie w żaden sposób mi nie przeszkadza. Po depilacji zaś są zapalenia mieszków włosowych, różnego rodzaju podrażnienia skóry, uczulenia. Bakterie, które dostają się do mieszków włosowych, mogą powodować infekcje i z mojego punktu widzenia to nie jest dobre. Ale decyzja należy do kobiety – ja mogę tylko doradzić.
PAULINA: Jak zatem rozpoznawać infekcje?
DR SKÓRZEWSKA: Przede wszystkim trzeba wiedzieć, że każda wydzielina z dróg rodnych to są upławy. I jeżeli mamy do czynienia z wydzieliną wodnistą, przezroczystą lub lekko mleczną – w zależności od fazy cyklu – to jest OK. Jeśli natomiast pojawia się wydzielina o nieprzyjemnym zapachu, która ma inny kolor niż zwykle, to powinno nas zainteresować. Najbardziej charakterystyczna jest wydzielina grzybicza – przypomina twarożek i towarzyszy jej uporczywy świąd, taki dyskomfort w pochwie. Bardzo często występuje obfita wydzielina szaro-mleczno-wodnista, która może mieć nieprzyjemny rybi zapach i świadczy nie tyle o infekcji, ale o zaburzeniu flory bakteryjnej w pochwie. Kiedy za mało jest pałeczek kwasu mlekowego, które pełnią funkcję pierwszej ochrony, wtedy beztlenowce, które normalnie są w pochwie, zaczynają się namnażać i wymaga to leczenia. Poważną infekcję wywołują chlamydie. Dają bardzo niespecyficzne objawy i tak naprawdę dopiero w badaniu bakteriologicznym przy specjalnych podłożach można stwierdzić, że mamy do czynienia z chlamydią. To jedna z chorób bakteryjnych przenoszonych drogą płciową, może też powodować zapalenia pęcherza i układu moczowego. Wiążą się z nią niecharakterystyczne upławy, takie żółto-zielone, do tego dochodzi świąd. Rzęsistek pochwowy jest chyba najbardziej swędzącym drobnoustrojem i daje nieprzyjemny zapach, jak psujące się lekko mięso. Towarzysząca mu wydzielina jest bardzo się pieni.
PAULINA: Każdy taki stan wymaga leczenia? Nie ma co liczyć, że samo przejdzie?
DR SKÓRZEWSKA: Nie przejdzie samo. Infekcja może się sama ograniczyć. W przypadku grzybów sytuacja jest poważna. Bo grzyby mają formy aktywne i przetrwalnikowe, z których za trzy tygodnie rozwinie się kolejna infekcja. I choć jeden raz przejdzie, drugi raz przejdzie, weźmiemy sobie jakieś leki dostępne bez recepty, to w końcu zrobi się z tego infekcja przetrwała, którą jest bardzo, bardzo trudno wyleczyć.
PAULINA: Poza sytuacjami, kiedy "swędzi, piecze", jak często powinnyśmy odwiedzać gabinet ginekologiczny?
DR SKÓRZEWSKA: Kobiety, które nie współżyją, powinny badać się raz w roku, a te, które współżyją regularnie, powinny co pół roku pokazać się kontrolnie. Pierwsza cytologia powinna być zrobiona trzy lata po rozpoczęciu współżycia, dlatego że w cytologii nie wykrywamy infekcji, nie wykrywamy stanów zapalnych, ona służy tylko i wyłącznie wykryciu zmian przednowotworowych i nowotworów, ewentualnie zakażenia wirusem HPV. Żeby doszło do zmian w komórkach pod wpływem HPV, musi minąć około trzech lat. Pierwsze kilka cytologii powinno się robić co roku. Jeżeli trzy kolejne są prawidłowe, to przy tym samym partnerze czy tej samej partnerce i pewności co do ich wierności, można robić cytologię raz na dwa lata a nawet, według zaleceń NFZ, raz na trzy lata. I to jest wystarczające, jeśli są spełnione warunki, o których mówiłyśmy.
Jeżeli cytologia jest nieprawidłowa, trzeba włączyć program obserwacyjny i wykonywać badanie częściej albo podjąć dodatkowe działania diagnostyczno-zabiegowe. Pamiętajmy, że lekarze, robiąc cytologię, nikogo nie wyleczą. Mogą tylko podjąć decyzję o dalszym postępowaniu, bo nie ma leków na HPV, a co za tym idzie, na raka szyjki macicy. Jedynie nasza czujność i ewentualne działania operacyjne mogą pomóc. W Stanach i większości krajów zachodnich nie wykonuje się standardowo cytologii, tylko robi się raz na trzy lata badanie na DNA wirusa HPV. I jeżeli ktoś ma wirusa, to wchodzi w program ściślejszej obserwacji. Jeżeli nie ma, to dopiero za trzy lata powtarza się badanie. Panuje przekonanie, że tym sposobem wykrywa się dużo więcej stanów przednowotworowych. Natomiast cytologia jest bardzo subiektywnym badaniem. Wymaz ogląda człowiek – ktoś bardziej lub mniej doświadczony. Ponadto – jeśli cytologia była przechowywana dłużej niż powinna – komórki mogą być wyschnięte. Obraz zaburzają też współistniejące infekcje. Dążymy więc do tego, żeby robić badanie DNA wirusa HVP, a nie cytologię.
PAULINA: Jaka profilaktyka jest zalecana w związku z rakiem piersi?
DR SKÓRZEWSKA: U kobiet młodych te nowotwory zdarzają się sporadycznie. Bardzo, bardzo rzadko występuje nowotwór piersi przed 25. rokiem życia i screening zaleca się dopiero po 35. roku życia. Ale trzeba wykonywać samobadanie. Od najmłodszych lat powinnyśmy uczyć się naszych piersi. Jak nauczy się pani swoich piersi, to jeśli zajdzie w nich jakakolwiek zmiana, natychmiast zostanie wychwycona. A to, czy będzie je pani dotykała w prawo czy w lewo, ruchem okrężnym czy prostopadłym, naprawdę nie ma aż takiego znaczenia. Najważniejsze, żeby pozostawać z piersiami w kontakcie.
PAULINA: Chciałam jeszcze zapytać o bieliznę – czy to właśnie bawełniane majtki są dla nas najlepsze?
DR SKÓRZEWSKA: Absolutnie przewiewna bawełna, absolutnie nie syntetyczne, nie koronkowe, bo nie oddycha pochwa. Tlen jest niezbędny, żeby nie rozwijały się np. beztlenowce. W przypadku infekcji czy stanów zapalnych, zapalenia mieszków włosowych, najlepiej byłoby chodzić w ogóle bez bielizny, tylko w spódnicach. Oczywiście w warunkach domowych.
PAULINA: Wiele z nas stosuje też wkładki higieniczne na co dzień.
DR SKÓRZEWSKA: Nie jestem ich zwolenniczką, bo dziś coraz trudniej o wkładki w 100% bawełniane, dodaje się do nich substancje zapachowe i sprzyjające wchłanianiu, więc często podrażniają, alergizują. Jeżeli używamy globulek czy akurat mamy mocno brudzącą wydzielinę, to oczywiście bywają konieczne. I kiedy nosimy majtki z syntetyków, z koronki, to też może lepiej założyć taką wkładkę, aby mieć jak najmniej kontaktu ze sztucznym tworzywem.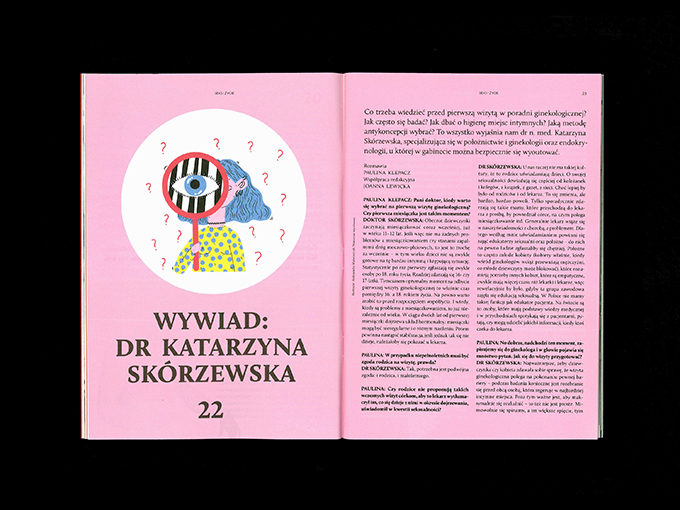 Wywiad ukazał się w czwartym numerze magazynu "G'rls ROOM" (4/2017)
Ilustracje: Aleksandra Matwiejczyk / nonsense-warehouse