Kiedyś ci, którzy marzyli o karierze aktorskiej, ściągali do Hollywood i zaczynali bieganinę od castingu do castingu. Te czasy minęły, co dobitnie pokazuje najnowszy wybór Seana Bakera. Dziś coraz częściej do show-biznesu trafia się prosto z królestwa mediów społecznościowych. Baker, który po sukcesie swojego poprzeniego filmu "Mandarynka" mógłby sobie pozwolić na zatrudnienie kogoś o naprawdę znanym nazwisku, nie zdecydował się na współpracę z żadną z hollywoodzkich gwiazd. A podobno, jak przyznawał w wywiadach, rozważał choć przez moment prawie każdą aktorkę na topie (i sporo piosenkarek) między 20. a 24. rokiem życia. Żadna nie wydawała się jednak odpowiednia do roli Halley – młodej matki, wychowującej samotnie córkę w motelu, impulsywnej, zakręconej, butnej, wulgarnej i pełnej uroku jednocześnie. Obawiał się też, że znana twarz sprawi, iż widzowie nie uwierzą w historię z ekranu, a w wyszczekanej dziewczynie z nizin społecznych i tak będą widzieć przede wszystkim bywalczynię drogich przyjęć przywykłą do czerwonych dywanów. Aż pewnego razu, zaczynając dzień od długiego przeglądania Instagrama, trafił przypadkowo na Brię Vinaite i od razu stwierdził, że ona ma w sobie to coś – buntowniczy charakter, dystans do tego, co pomyślą o niej inni, spontaniczność.
Urzekły go filmiki, na których Vinaite tańczy na tyłach ogrodu w fioletowym boa, pali jointy, opowiada, jak ją uszczęśliwić (podpowiedź – przede wszystkim przynosząc jej dużo jedzenia, nawet gdy mówi, że nie jest głodna). Dziewczyna wygłupiała się przed kamerą, zachowywała naturalnie, nie dodawała filtrów do zdjęć, nie próbowała pozować czy udawać kogoś innego. Baker natychmiast się do niej odezwał i zaproponował, żeby przyjechała na przesłuchanie do jego nowego filmu. Wszystko potoczyło się bardzo szybko i już niebawem Vinaite poleciała na Florydę, by pracować z Bakerem i Willemem Dafoe.
To zabawne, że choć "The Florida Project" przedstawia karykaturę amerykańskiego snu, historia Vinaite jest jego kolejnym ucieleśnieniem. Bria urodziła się w małej wsi na Litwie w 1993 roku. Wychowywała ją babcia, ponieważ jej matka wyjechała do Stanów w poszukiwaniu lepszych perspektyw. Kiedy Vinaite była niewiele starsza niż jej filmowa córka Moonee dołączyła do matki i zamieszkała w Bay Ridge na Brooklynie. Ta przeprowadzka nie była dla niej prosta. Bria nie znała angielskiego przez co nie mogła komunikować się z rówieśnikami, co dla tak towarzyskiej osoby jak ona było bardzo trudne. Zamknęła się w sobie i przez pierwsze trzy lata pobytu w Stanach skupiła się na nauce angielskiego. Przyjaciół zastąpiły jej książki. Czytała kompulsywnie, numerowała książki na półkach, następnie pochłaniała je chronologicznie i o każdej pisała wypracowanie, które później odczytywała mamie – jak opowiadała na łamach "The Guardian". Dzieciaki ze szkoły nie przepadały za żyjącą w świecie książek imigrantką z Litwy, podobno były dla niej wyjątkowo wredne. Lata później Bria opowiedziała o tym na łamach swojego Instagrama i przypomniała dawnym kolegom i koleżankom z klasy o ich zachowaniu.
Zbuntowała się dość szybko. Już jako czternastolatka zaczęła robić sobie pierwsze tatuaże i farbować włosy na wszystkie odcienie tęczy. Dziś wciąż się wyróżnia i opowiada o tym, jak nie podoba jej się to, że kobietom wciąż narzucane są jednolite standardy wyglądu. Tymczasem Bria chciałaby, aby wygląd był nieskrępowaną emanacją charakteru i wyjątkowości każdej osoby. Jej buntowniczość wobec jakichkolwiek schematów przejawia i przejawiała się jednak nie tylko w oryginalnym wyglądzie. Gdy większość jej rówieśników marzyła o college'u, ona wiedziała, że to nie jej droga. Zawsze lubiła uczyć się wszystkiego na własną rękę, zbierać nowe doświadczenia. Jako osiemnastolatka wyprowadziła się z domu, po serii dorywczych prac udało jej się odłożyć pieniądze i rok później założyć własną markę – ChroniCal Designs.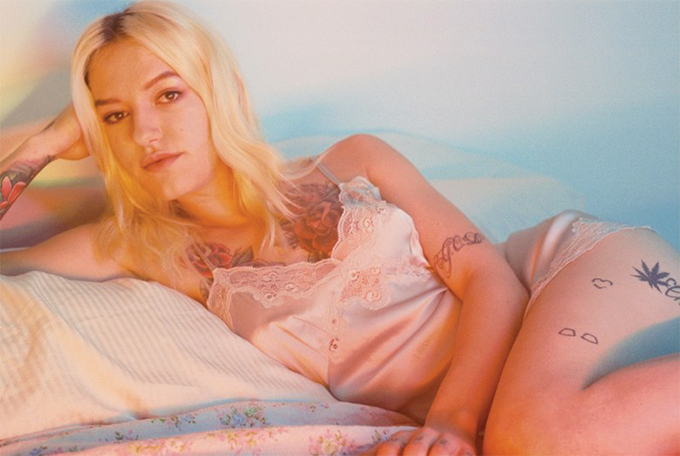 Żeby Baker miał jednak szansę zauważyć Brię, musiało się stać coś jeszcze. Była zima 2015 roku, w Nowym Jorku było lodowato, a szczególnie w niewielkim mieszkaniu zajmowanym przez Vinaite i jej współlokatorkę. Do tego okazało się, że czynsz ponownie wzrósł. Dziewczyny postanowiły się spakować, opuścić mieszkanie i na kilka miesięcy przenieść się do najbliższego ciepłego miejsca – padło na Miami. Ponieważ nie znały nikogo w mieście, spędzały większość czasu pracując w domu. Bria opowiada, że zaczęła nagrywać kolejne zabawne filmiki na Instagramie, bo po prostu była znudzona i chciała zagłuszyć samotność. Po kilku miesiącach w Miami wróciła do Nowego Jorku. Niedługo później znalazła w skrzynce odbiorczej wiadomość od Bakera.
Przesłuchanie poszło świetnie i Vinaite szybko ponownie opuściła Nowy Jork, by zacząć pracować na planie "The Florida Project". Zanim zaczęło się kręcenie filmu, Bria przez prawie miesiąc uczestniczyła w próbach i poznawała lepiej swoją ekranową partnerkę – 7-letnią Brooklynn Prince. Halley w wykonaniu Vinaite nabrała barw, opuściła strony scenariusza i stała się dziewczyną z krwi i kości. I prawdopodobnie najciekawszą i najbardziej niejednoznaczną postacią w filmie. Dysfunkcyjną matką, która działa bez zastanowienia i popełnia błąd za błędem, a jednocześnie wzrusza swoim żywym uczuciem do córki i zaskarbia sobie względy widza młodzieńczą energią.
Film szybko zebrał świetne recenzje, w tym dla aktorskiego trio – Prince-Dafoe-Vinaite. "The Florida Project" doczekała się owacji na stojąco w Cannes, mówi się też, że może zgarnąć kilka statuetek na najbliższym rozdaniu Oscarów. O Vinaite rozpisują się zagraniczne media – od "Vanity Fair" i amerykańskiego "Vogue'a" po "Dazed and Confused" czy "Wired". Plotka głosi, że Vinaite pojawi się w nowym filmie Harmony'ego Korine. Czy przyszłość przyniesie jej kolejne aktorskie propozycje? Czy obserwujemy właśnie narodziny kolejnej gwiazdy prosto z internetowego uniwersum? Jeśli tak, byłoby świetnie, bo Vinaite mogłaby wnieść do Hollywood powiew autentyczności i buntu, którego w Fabryce Snów zdecydowanie brakuje.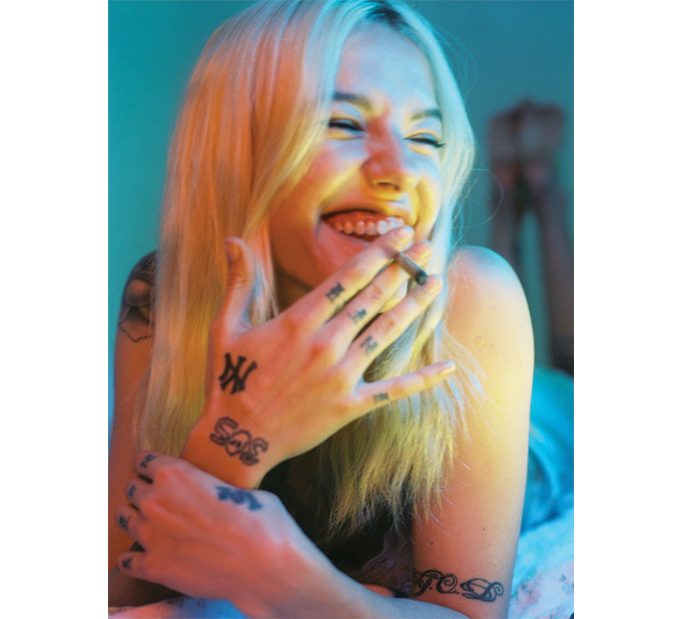 Fot. kadry z filmu – materiały prasowe, zdjęcia Vinaite autorstwa Mayan Toledano – Instagram Vinaite @chronicflowers