Diablo Cody, a właściwie Brook Busey, awansowała do super ligi scenarzystów momentalnie. Zresztą jej historia również mogłaby stać się kanwą niezłego filmu. Choć z początku wcale się na to nie zapowiadało. Busey dorastała na przedmieściach Chicago, jej ojciec pracował dla rządu, matka była recepcjonistką. Typowa klasa średnia. Katolickie wychowanie. Zero ekscesów. Jak wspomina Cody, jej dzieciństwo i okres dorastania były szczęśliwe i… po prostu przeciętne. Brook wybrała studia dziennikarskie na Uniwersytecie Stanowym w Iowa, po nich przyszedł czas na pierwsze prace. Biurowe fuchy, które zdecydowanie nie skradły jej serca. Dziewczyna uciekała więc w świat wirtualny – pierwszy blog, jaki stworzyła, opowiadał o fikcyjnej sekretarce z Białorusi. W internecie Busey poznała swojego przyszłego chłopaka i zdecydowała się do niego przeprowadzić. Tak wylądowała w Minneapolis w Minnesocie. I dopadała ją nuda.
Owładnięta rutyną Brook usilnie potrzebowała jakichś nowych bodźców, czegoś, co zaburzy jej poukładane, przewidywalne życie, da impuls do pisania. I tak zdecydowała, że weźmie udział w konkursie dla striptizerek, którego reklamę zauważyła przypadkowo. Świat nocnych lokali zafascynował ją na tyle, że niebawem rzuciła pracę i została pełnoetatową striptizerką. Jednocześnie pisała artykuły do gazet i założyła perwersyjnego, nie uciekającego od wulgaryzmu, zabawnego i do bólu szczerego bloga "Pussy Ranch", na którym z dokładnością opisywała swoją pracę, fetysze klientów, życie tańczących w klubach dziewczyn. W tym czasie na dobre przytknął też do niej pseudonim Diablo Cody, który wybrała, by rodzice nie dowiedzieli się, co robi.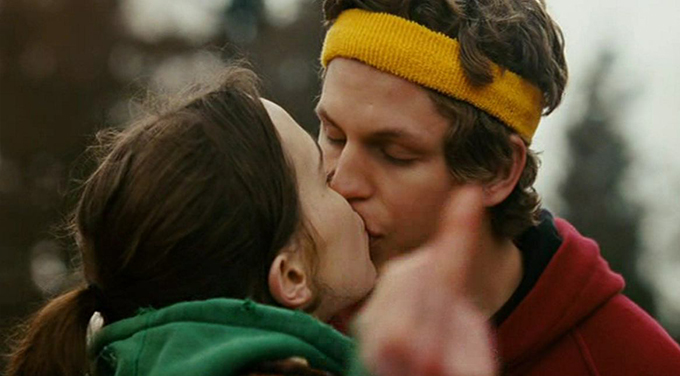 Kadr z filmu "Juno"
Za sprawą bloga znalazł ją Mason Novick, producent filmowy, którego sarkastyczny, bezkompromisowy styl Diablo urzekł na tyle, że zdecydował się zostać jej menadżerem. Plotka głosi, że mężczyzna wpadł na trop Diablo, wpisując po prostu w wyszukiwarkę słowo "pussy". W każdym razie to on przekonał Cody, by spisała swoje wspomnienia w formie książki – tak powstała autobiograficzna powieść "Cukiereczek, czyli rok z życia nietypowej striptizerki". To również Novick zachęcił Cody do spróbowania sił w scenopisarstwie, choć dziewczyna nie miała w tej dziedzinie żadnego doświadczenia. Po kilku miesiącach przesiedzianych z komputerem w Starbucksie skończyła scenariusz "Juno". I bum, zrealizowany na jego bazie film Jasona Reitmana z Ellen Page w roli głównej zapewnił jej Oscara. Świat poznał Diablo Cody.
Można różnie oceniać poziom kolejnych scenariuszy, które wyszły spod pióra Diablo, ale jedno jest pewne – każdy z nich wprowadzał do kina ciekawą postać kobiecą, niekoniecznie taką, którą da się łatwo polubić, ale zdecydowanie daleką od stereotypów. Zresztą Cody od początku deklarowała, że taki właśnie jest jej cel – pokazać kobiety inaczej, niż zwykło to robić kino, i dać aktorkom okazję do zagrania czegoś niesztampowego. "Mam to szczęście, że aktorki interesują się moimi scenariuszami. I szczerze mówiąc, nie sądzę, by miało to związek z jakością mojego pisania. Po prostu jest tak mało dobrych ról dla kobiet, a ja daje aktorkom okazję do wcielenia się w inne postaci, zrobienia czegoś więcej niż zagranie żony Adama Sandlera" – deklarowała Diablo na łamach "The Guardian".
I rzeczywiście, żadna z jej bohaterek nie jest nijaka. Diablo mierzy się z hollywoodzkimi kliszami, tworzy postaci, które zawsze czymś zaskakują. W "Juno" dostaliśmy wygadaną, szalenie błyskotliwą nastolatkę, która zachodzi w ciążę z przyjacielem i decyduje się oddać dziecko do adopcji. A przy tym historię, którą większość twórców opakowałoby w formę moralizatorskiego dramatu społecznego, Diablo podała nam pod postacią iskrzącej inteligencją komedii. W "Zabójczym ciele" uwielbiana przez wszystkich nastoletnia królowa balu zamienia się w krwiożerczego demona, który pożera kolejnych szkolnych kolegów. Kicz jak najbardziej obecny, poziom filmu może niewygórowany, ale mimo wszystko to całkiem ciekawy sposób na opowiedzenie o dorastaniu i seksualnej inicjacji. W "United States of Tara", serialu napisanym przez Cody i wyprodukowanym przez Stevena Spielberga, dostajemy gospodynię domową. Ale i tu czeka nas zaskoczenie – w końcu główna bohaterka cierpi na dysocjacyjne zaburzenie tożsamości, więc ma pod dostatkiem wyrazistych osobowości.
W "Kobiecie na skraju dojrzałości" (przy której Cody znów współpracowała z Reitmanem) widzimy sfrustrowaną trzydziestolatkę, której życie potoczyło się niewłaściwym torem. Mavis (Charlize Theron), niegdyś najpopularniejsza dziewczyna w szkole, zamiast zajmować się wielką literaturą pisze powieści dla nastolatków, właśnie się rozwiodła i wraca do rodzinnego miasta, by odzyskać swoją licealną miłość. Co z tego, że jej dawny chłopak ma już żonę i dzieci. Diablo tworzy bohaterkę, której większość widzów nie polubi i taki właśnie był jej cel. Mavis nie miała być miła. Miała być niedojrzała, egoistyczna, oderwana od rzeczywistości. I przy okazji interesująca. Przy tym cała fabuła "Kobiety na skraju dojrzałości" to drwina z klasycznych komedii romantycznych. Spotkanie po latach z dawną miłością nie musi kończyć się happy endem, powrót do domu niekoniecznie zapewni nam katharsis i ześle gotową odpowiedź, co zrobić ze swoim życiem, a to, że z każdym rokiem jesteśmy starsi, wcale automatycznie nie oznacza, że stajemy się też lepsi – wydaje się sugerować z charakterystycznym dla niej sarkazmem Cody.
W "Nigdy nie jest za późno", z Meryl Streep w roli głównej, Diablo opowiada natomiast o matce, która zostawiła rodzinę w pogoni za karierą gwiazdy rocka. "Wybrała pasję kosztem dzieci i w związku z tym jest uważana za potwora. Otacza nas mnóstwo mężczyzn, którzy dokonali takiego samego wyboru, a nie są demonizowani w ten sposób" – zauważała Cody w wywiadzie dla "The Guardian". Ricki, grana przez Streep, to kolejna bohaterka, która rozmija się ze społecznymi oczekiwaniami. Podobnie jest z Marlo, centralną postacią filmu "Tully". Nie mamy tu do czynienia z matką idealną, która bez zająknięcia, z niewyczerpaną energią płynącą z tajemniczego źródła, mierzy się z wszystkimi przeciwnościami losu. Widzimy zwyczajną kobietę – przygniecioną przez nadmiar obowiązków i finansowe zobowiązania, żyjącą w małżeństwie, w którym brak miejsca na ekscytację czy po prostu na dobry seks. W tym świecie pierwsze skrzypce gra rutyna.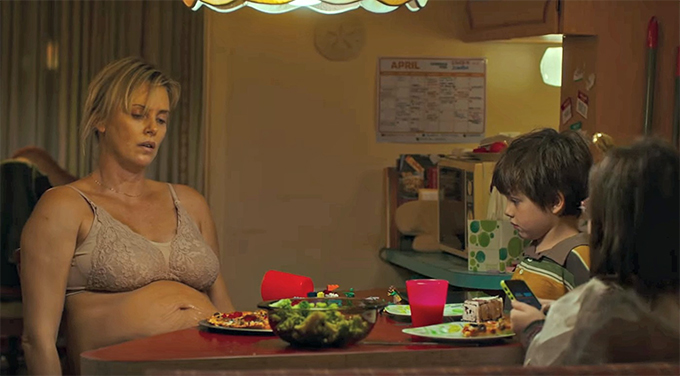 Kadr z filmu "Tully"
"Tully" to już trzeci film, w ramach którego Cody współpracuje z Reitmanem, drugi, w którym w główną rolę wciela się Theron. Widać, że ta trójka to już zgrany zespół, a "Tully" to kolejny film w ich portfolio, który urzeka szczerością, ale i dowcipem, który u Diablo jest zawsze obecny, nawet, gdy mowa o trudnych sprawach. W "Tully" taką kwestią jest z pewnością depresja poporodowa. Fakt, że Cody sięga w filmie po temat choroby, i w jaki sposób to robi, podzielił publiczność. W prasie nie brak zarówno głosów wychwalających "Tully", jak i słów krytyki wobec tego, że film nie pokazuje, by Marlo została na końcu skierowana na leczenie. Cody odpowiadała na te zarzuty, mówiąc, że celowo chciała, by zarówno Marlo, jak i jej syn, który w filmie wciąż sprawia problemy nauczycielom, nigdy nie usłyszeli konkretnej diagnozy, nie dostali profesjonalnej pomocy – bo tak też w życiu bywa i to zdecydowanie zbyt często.
To zresztą nie pierwszy raz, gdy twórczość Diablo wzbudza kontrowersje – jest tak od samego początku. Gdy do kin wszedł film "Juno", wiele osób zarzucało scenarzystce, że przedstawia w nim aborcję w negatywnym świetle. Zadeklarowana feministka Diablo odpowiadała, że nie taki był jej zamiar, że zawsze była za prawem do wyboru. Cody utrzymuje, że nie chciała wartościować różnych decyzji – pokazać, że Juno, która decyduje się urodzić dziecko, robi lepiej niż nastolatki, które decydują się usunąć ciążę. A jednak jej film miał tak dużą siłę oddziaływania, że tygodnik "Time" uznał popularność produkcji za jeden z czynników, które miały wpływ na spadek liczby aborcji wśród nastolatek w Stanach Zjednoczonych i określił całe zjawisko mianem "efektu Juno".
Trzeba przyznać, że prasa nigdy nie oszczędzała Diablo. Zaraz po "Juno" jedni widzieli w Cody nadzieję Hollywood, najbardziej utalentowaną młodą scenarzystkę, inni sugerowali, że karierę zrobiła za sprawą szczęśliwego trafu. Do dziś zdania na temat Diablo są mocno podzielone. Scenariusze Cody można lubić lub nie, można podziwiać jej odwagę do kroczenia własnymi ścieżkami, zgadzać się z jej poglądami lub zupełnie za nią nie przepadać, ale trudno nie zauważyć, że wprowadziła i wciąż wprowadza do Hollywood powiew świeżości. I że za jej sprawą w amerykańskich produkcjach pojawiło się sporo pełnokrwistych, nieoczywistych bohaterek. "Tully" jest tego najlepszym przykładem.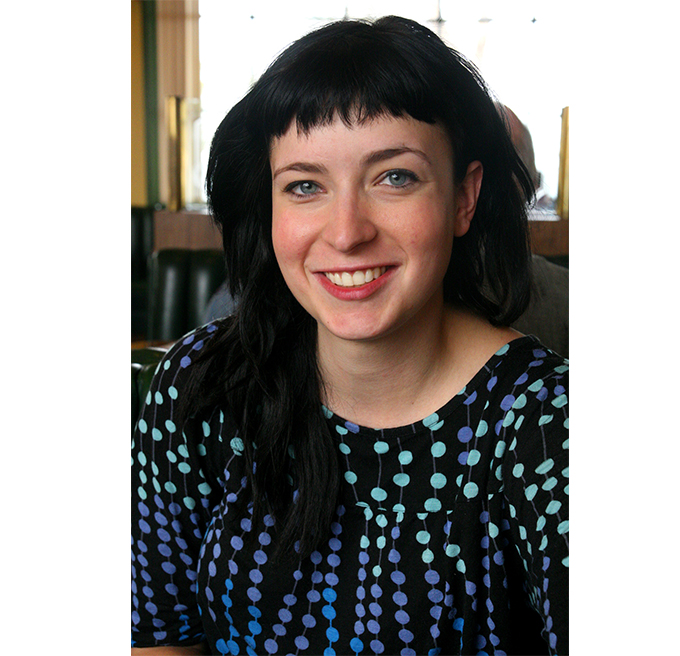 Fot. materiały prasowe