Magazyn "G'rls ROOM" ujrzał światło dzienne na początku grudnia zeszłego roku po kilku miesiącach wytężonej pracy, choć nam – dziewczynom związanym z enter the ROOM – zaczął chodzić po głowach o wiele wcześniej. Brakowało nam na polskim rynku magazynu, który nie traktowałby czytelniczek (i czytelników też) pobłażliwie, a mówił otwarcie o seksualności i współtworzył dyskusję o prawach kobiet, sprzyjał tolerancji.
"Chcemy głośno mówić, że wszystkim należą się równe prawa: do pracy, miłości, przyjemności seksualnej – do życia według własnych zasad. Zwłaszcza dziś trzeba szerzyć tolerancyjne postawy, szacunek do drugiego człowieka, przekonanie, że mamy prawo do różnych postaw i poglądów, przy tym można różnić się w kulturalnym duchu, a wolność jednostki to najważniejsza wartość" – dziewczyny z "G'rls ROOM".
Powstało pismo, na które wielu z was odpowiedziało z entuzjazmem, dając nam siłę do dalszej pracy, choć w niszy, choć na trudnym gruncie. Piszecie o swoich doświadczeniach i inspiracjach, chcecie więcej cycuszków i cipek, chcecie otwartego mówienia o czerpaniu przyjemności płynącej z ciała – niezależnie od tego, w jakim jest ono rozmiarze, jak wygląda. Wiecie, że choć kobiety i różne mniejszości sporo już wywalczyły, to nadal dużo jest do zrobienia i nie można pozostawać obojętnym na problemy, które niby bezpośrednio nas nie dotyczą. Wciąż są szklane sufity do przebicia, cudowne osoby, o których warto opowiadać, jak i sukcesy, ale i porażki warte uwagi, bo na jednych i drugich można się dużo nauczyć.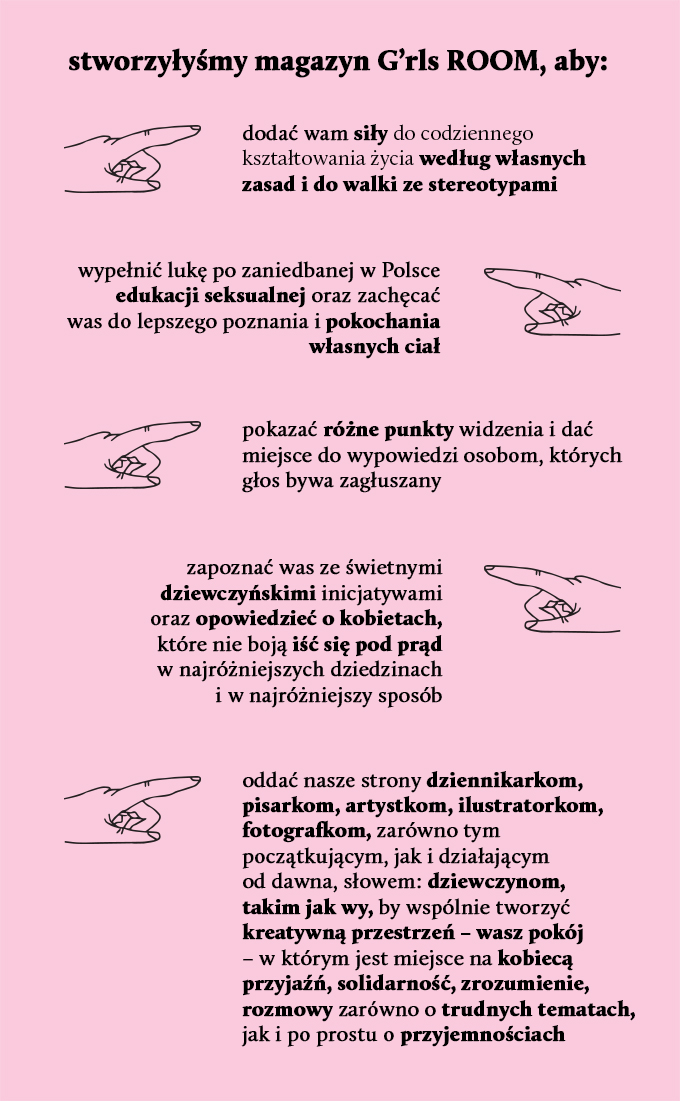 Udało nam się rozpocząć przygodę z "G'rls ROOM" dzięki wsparciu inwestora. Wydałyśmy już trzy numery naszego kwartalnika, jednak potrzebujemy pomocy, aby wydać dwa kolejne numery, które zaplanowałyśmy na ten rok – chcemy, by jeden z nich ukazał się jesienią, a drugi zimą tego roku (możemy wam już zdradzić, że pierwszy z nich będzie się kręcił wokół piersi, drugi – menstruacji). Pieniądze są nam potrzebne na opłacenie kosztów druku oraz wynagrodzenie autorów artykułów, zdjęć czy ilustracji. Wciąż jesteśmy na początkowym etapie rozwoju, ale mamy nadzieję, że dzięki waszej pomocy uda nam się rozwinąć magazyn tak, by stanął na własnych nogach.
Zdecydowałyśmy się na finansowanie projektu w ramach crowdfundingu, ponieważ zależy nam na tym, by magazyn "G'rls ROOM" nie był zapełniony reklamami i nie zamienił się w przestrzeń pełną tekstów sponsorowanych, ale składał się z wartościowych treści. Od początku chciałyśmy, by w magazynie pojawiały się tylko pojedyncze reklamy, do tego reprezentujące marki, organizacje czy ludzi, którzy wyznają podobne wartości, co my. Jednocześnie bardzo chcemy, by cena magazynu była przystępna (w tym momencie wynosi 9 zł). Takie założenia nie idą jednak w parze z dużymi zarobkami, a więc aby utrzymać się na zmagającym się z kryzysem rynku prasy, postanowiłyśmy zwrócić się do Was o pomoc.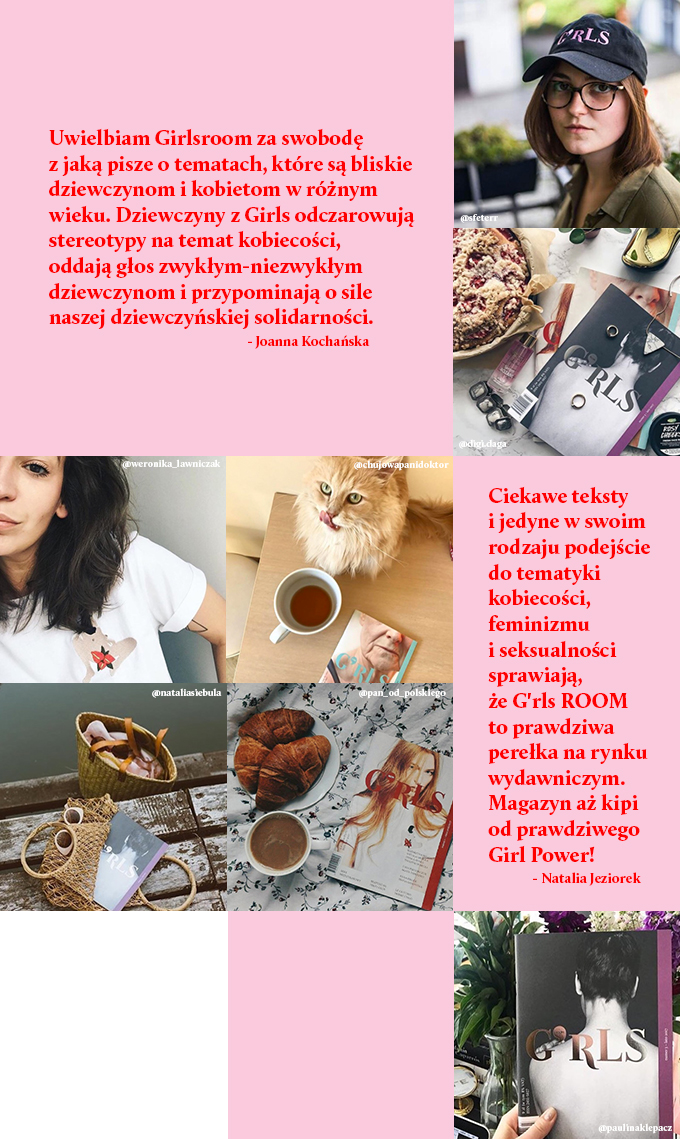 Oczywiście przygotowałyśmy też dla was nagrody w zamian za wsparcie. A wśród nich, poza dotychczasowymi i przyszłymi wydaniami magazynu "G'rls ROOM", także cenione przez nas filmy, fajne płyty, naturalne kosmetyki, kolorowanka specjalnie od naszej graficzki Gosi czy warsztaty, które zorganizujemy jesienią tego roku. Jest i uwielbiana przez was czapka z limitowanje edycji z napisem "G'rls" oraz koszulka znana wam z pierwszej okładki magazynu, zaprojektowana specjalnie przez Monikę Mularczyk (@momu_warsaw). A to tylko kilka z propozycji, które dla was mamy.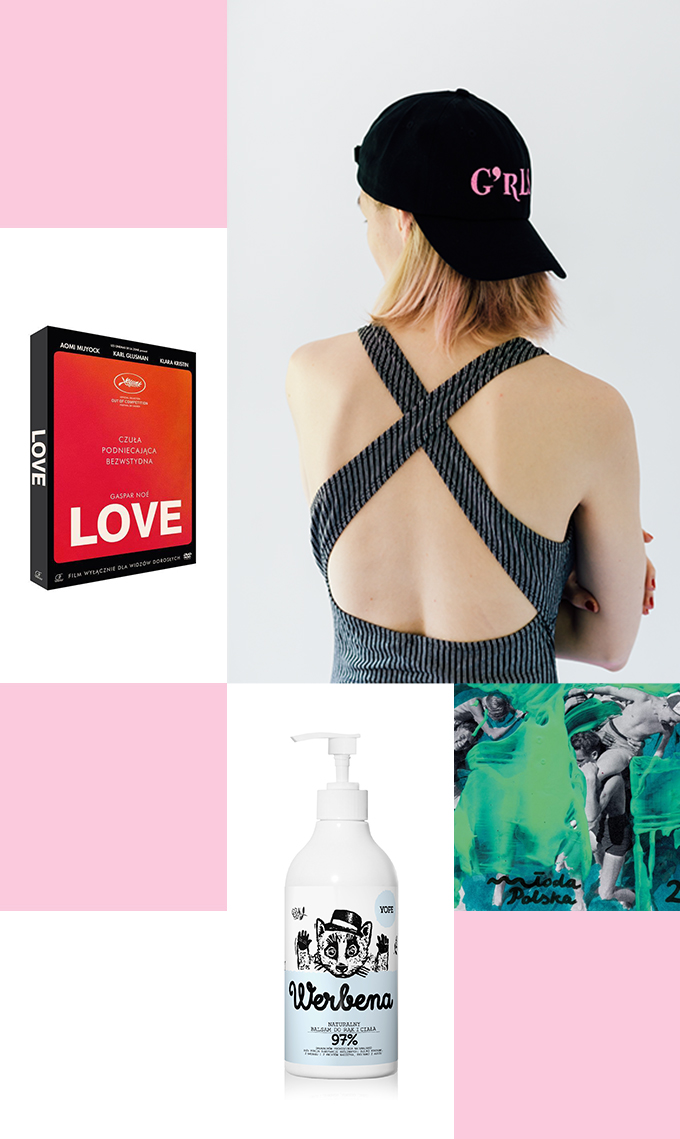 Będziemy ogromnie wdzięczne za wszelkie formy waszego wsparcia. Ucieszy nas, jeśli zechcecie opowiedzieć o naszym projekcie przyjaciołom, rodzinie czy znajomym, udostępnić link do naszej zbiórki w mediach społecznościowych, a także jeśli wesprzecie nas finansowo. Mamy nadzieję, że dzięki temu staniemy się jeszcze bardziej zżytą społecznością.
Więcej informacji o naszej zbiórce, nagrodach, jak i samym magazynie znajdziecie na stronie projektu na Polak Potrafi:
polakpotrafi.pl/projekt/girlsroom
Opracowanie graficzne Małgorzata Stolińska