Bohaterką anglojęzycznej powieści rozgrywającej się w nowojorskiej szkole średniej jest 17-letnia Amerykanka Roza, w której żyłach płynie jednak krew polska i wenezuelska. Targające nią wewnętrzne sprzeczności poznajemy na tle krwawego szkolnego konflitku i pierwszych odwiedzin w Polsce, kraju, skąd pochodzi matka bohaterki.
There comes a day when you go looking for your roots and you realize they're all gone.
You grope about in the dark and find nothing. Nothing but bits and pieces of a legacy gone astray like a dog that was never loved in the first place. No matter where you come from, the day you become an American is the day you lost it all. No matter if you were born here or made it over by plane, train, bus or banana boat. Just like that, thousands of years of memory vaporize like the plane that hit the Pentagon. You forfeit miles of spindly roots planted into the earth by your ancestors from way back when. Slowly, painfully, you squander your family recipes and all them heirlooms, memories, traditions go slipping through your fingers. You figure you're living the dream, but something's off. Something's missing.
Something you didn't even know you needed. You lose track. You lose your ground. The connection with the earth that made you. That dust that hardened into your bones and softened into your skin. You think you can go on making the tamales, the pierogis, the same old samosas your grannies made for generations but they're not the same at all. The flour here is different. The water is different. The proportions are all out of wack. And you know it's just a dumpling and dumplings don't always come out right, but for some reason you're bawling your eyes out. Because you know it's not just a fluke. It doesn't come out right no matter how many times you try. Because it just ain't in you no more.
A sourness that tastes like shame comes up in your throat. Shame that flips on itself, turning on the past, turning on your parents because they're the ones who made you and brought you here. Your loving parents are now the bullseye for your shame. Their accents and their crazy foods. It was their brilliant idea to ship you all the way across the ocean before you had anything to say about it. So now you do all you can to keep them at home, hidden behind closed doors. You never invite anyone over. You do what you can to become like everyone else. You want to look like the girls in the videos. The selfie-stick chicks on the gram. Then you start dressing like the guys in the videos so the dudes round the way no longer feel obliged to tell you that your ass is too big or your ass is too flat. You convince yourself that you've been here all along.
That there is no motherland. No Poland, Ukraine, Honduras, Philippines, Bangladesh. The past fades like the last wisp of smoke after a dumpster fire. But the stench of it lingers, you know. There's nothing you can do to make it disappear for good. It's a blemish that won't go away. An ugly little blackhead of guilt. Because you denied your ancestors, denied your heritage. When you denied them, you denied yourself. You denied your very existence.
This is the tragedy of assimilation. The old folks give up trying to talk sense into you. They throw their hands up and let you be what you always thought you wanted to be. An apple-pie-eating, base-ball-bat swinging shiksa like all those other girls in the hood. You try telling them that shit ain't really you at all. So they ask you, who is you then? And you try to tell them but it's like snakes crawling up your throat. You can't spit out a syllable. So, you figure maybe they're right. You start grasping at straws, the frayed threads of history, shreds of a native realm.
There comes a day when you finally realize you have no idea who you is or even who you are, and where you came from. So maybe you get on a plane and try to take a good hard look at things from a distance. Try to take in the bigger picture and all. Back to the future. Though the truth is I'm not really doing it for the right reasons. My story ain't all high and mighty like that. There's more dirt I'll have to dig up at some point, for sure. I'll get to it when the time is right. No point in rushing things. We have all the time in the world.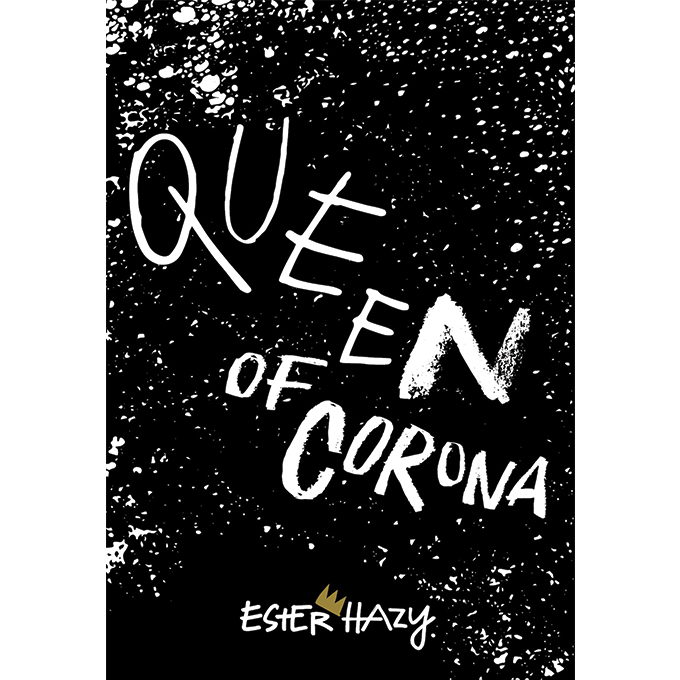 Fragment pochodzi z powieści Esterhazy "Queen of Corona", którą możecie kupić stacjonarnie na Pańskiej 3 w Warszawie w księgarni Bookoff i
Fot. materiały prasowe